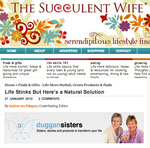 MIL throws out commercial deodorant! Loves her safe, effective lifestinks...
Thanks, Audrey, for your post on The Succulent Wife. We're so glad you found lifestinks® for your mother-in-law.
"I had to try this.  My mother-in-law, Betty, is a breast cancer survivor and I knew I had to get her a LifeStinks kit. I told her the story and she confided in me that she'd always hated wearing store-bought deodorant but felt she had little choice because the natural stuff never worked for her.  She absolutely loved the Lifestinks product!  Not a big fragrance* fan, she still found the lavender very pleasant (I personally love it, but then I am a fan of essential oils).  She stayed with us for a month during Christmas and never looked back at her store bought deodorant again. In fact I found it in the bathroom waste basket after she had left. Now that is a testimonial!"
* Lots of people that are sensitive to fragrances really appreciate that lifestinks is made with essential oils. "Frangrance" is a term developed by the perfume industry to protect their top-secret concoctions. They don't have to tell you what's in it. Not so with lifestinks®. Duggan Sisters products are fragrance-free, and we only use the best Australian botanicals on the market.