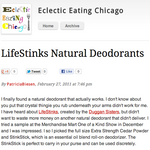 Deodorant for James Bond? We're glad you're so impressed!
Thanks, Patricia, for your post on Eclectic Eating Chicago.
"The base ingredient used to make LifeStinks is aluminum free sodium bicarbonate. This is not the baking soda that can be purchased at the grocery store as that product contains aluminum. Pure Australian botanical oils like tea tree oil are added to address odor causing bacteria. Lavender or cedarwood is also used to further naturally purify the underarm area. The Duggan Sisters buy the oils from a company that has an on-site laboratory where all essential oils undergo rigorous testing and analysis. This is done using the latest in Quality Assurance with Gas Chromatography and Mass Spectrometry (GC/MS) equipment to accurately analyze each and every batch of essential oils they produce. Sounds like James Bond kinda stuff to me!"
We like the idea of Daniel Craig wearing lifestinks®, that's for sure!