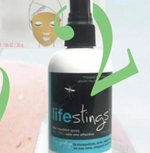 Bisous Magazine: More2Love about lifestings!
"But spray might not be considered a "beauty" product for many, but we say why not - when humidity is at play, it's a crucial step in a routine to protect skin. You'd never guess what is the hero ingredient in this spray, but it's organic catnip oil. Nope, not DEET. Instead it's a safe, effective solution that helps keep unwelcome critters away. Plus, it also smells minty (read: enjoyable) and to like strong chemicals."
Read the whole article
here.