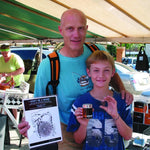 The Duggan Sisters credit "Dressed to Kill: the Link Between Breast Cancer and Bras" by medical anthropologists Singer and Grismaijer as a primary inspiration for their DON'T BE A BOOB campaign.
Trained by the world-renowned Naturopathic Physician, Dr. Karyn Mitchell, from the day the Duggan Sisters added Fibromyalgia and Lymphatic Breast Care — Advanced Lymphatic Techniques to the repertoire of healing services offered at the Rose Cottage Healing Center there was no going back. Armed simply with a photocopy of a breast lymphatic illustration from "Dressed to Kill" the sisters were off and running with their passionate campaign to inform people about the role of the lymphatic system in maintaining vibrant health.
"We were astounded daily by how little women knew about the proper care of their breasts!" says Mary Duggan. Explaining how healthy breasts work and how to take preventive steps to ward off diseases of the breast became the primary work of the sisters. "All we ever saw were women terrified about cancer — utterly uneducated about all the tools available with diet and other choices to minimize the possibility of disease through purification."
Once you explain to a woman how restrictive bras or toxic deodorant can endanger breast health, you have a turned on, informed, educated, powerful woman on your hands. Add in a man educated about the role of the lymphatic system in healthy prostate function and you have a population fully engaged in their own health future. You have turned blind fear into clear-eyed consumerism.
Frustrated by the ineffectiveness of natural deodorants on the market, the Duggan Sisters had been making their own deodorant for years. A session in Manual Lymphatic Drainage at the Rose Cottage always ended with a discussion of deodorants and how to make your own. "But" says Mary, "no one was willing to make their own. So, one day I turned to a client and said, if I make it for you, will you use it? That day our
life
stinks®
deodorant was born and the little deodorant can that could is now our primary focus."
Armed with their deodorant can and their breast diagram, the Duggan Sisters launched their DON'T BE A BOOB campaign in the fall of 2008 and there has been no going back. Not satisfied with reaching the relatively small number of individuals that can afford a $200 lymphatic drainage massage, the Sisters are determined to reach untold numbers with their message of prevention through purification. Starting with the basics: healthy deodorant; informed lingerie decisions; the benefits of rebounding; and the importance of living foods — the Duggan Sisters are determined to change the world with their sensible approach to real wellness.

In addition to certification in other healing techniques, Annie and Mary Duggan both hold Advanced Certification in the Mitchell Technique for Manual Lymphatic Drainage through the Midwest College of Naturopathic Medicine. Manual Lymphatic Drainage is not currently being offered by the Duggan Sisters — they are simply too busy traveling worldwide with the message of their DON'T BE A BOOB Campaign.