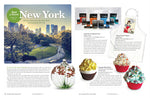 Duggan Sisters take BEST OF SHOW at NY NOW!
"What better way for your customers to show they care than by giving that stinky someone the best solution to change their life-and the lives of those around them!"
- Retailing Insight, Best of Show New York
Duggan Sisters took BEST OF SHOW at the New York International Gift Fair! Those of you who follow our little business know it was nothing short of a miracle that we even got there. Believe me, setting up our modest little booth in the large shadow cast by personal care product giants like Crabtree & Evelyn and Caswell Massey was really intimidating. So to be seen, really SEEN, as we stood in the shadow of 3,800 other exhibitors is amazing and goes a long way towards ending a difficult year on a high note.