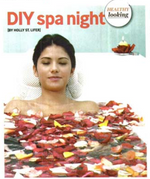 By Holly St. Lifer
February 2012
Taste of Home Healthy Cooking

Featuring the COMPLETE HARMONY DETOX BATH created at Kohler Waters Spa, Kohler Wl

Any warm bath purifies the skin but this treatment takes it to a deeper level. The Complete Harmony process combines the application of cool compresses and a warm soaking bath…adding the Duggan Sisters smartsoak®.  Read about Kohler's Complete Harmony DIY Spa treatment here.