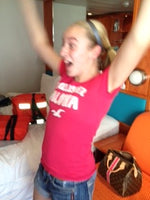 Stop the stink, sweat and BULLYING! Cheers for lifestinks!
"I just wanted to send a little note of thanks to the Duggan Sisters!  
I met and talked with Mary at length during the One of A Kind Art Show in Chicago back in December.  I have a 12-year-old daughter that is (WAS) "Stinky".  Mary knew the pain I was going through because of the peer pressure at school because of the odor and the under arm sweat stains.  I mentionned to Mary that we have tried every product out there.  We bought every product they promised would help with no success!!  
Thanks to your amazing product she no longer has that problem.  I have to admit it took awhile to get in her system and "stop the stink" but after a couple of weeks she was healed!!!  Now we have an addiction to lifestinks, much better than drugs or alcohol, so I don't think we will need to be on the reality show "Intervention" anytime soon. 
I did also attach a funny picture of my daughter.  We took a holiday cruise to the Hawaiian Islands and after the wonderful life jacket safety routine she was so excited her armpits were dry!!!  We were cheering for the Duggan Sisters the whole vacation.


Thanks again.

Kind regards,
Kelly W.
Ohio