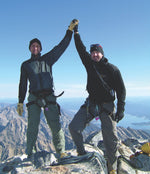 Broski, I Love My Deodorant!
Dear Duggan sisters,
I was a skeptic at first. Had wanted to make the switch for many years, but could not find the right solution. I am now a believer and evangelist and have converted others. Most importantly -- IT WORKS!!!
Thank you and continued good luck and prosperity and health,
Eric K, Chicago  


Broski, I Love My Deodorant!
Chicagoan Eric sent his brother, Mike, in San Francisco a holiday gift of lifestinks deodorant.  Wonder what kind of reaction the gift of deodorant brings? Mike's enthusiastic thank you delighted us.  Click here to listen in on a bro-to-bro moment:  Broski, I'm So Thrilled with My Deodorant 
And Mike was so grateful for finding a healthy deodorant that actually works, he took the time to thank us as well:
"My Bro Eric had given me your lavender can and lav stink stick as a gift for Christmas. It took a few months for me to start using it and when I finally did – I was super excited. It works. I thought it might just cover up the BO smell a bit and was worried about the lavender maybe being a little too girlie. Wrong!
My BO was gone gone gone. Out of 45 days, I maybe have had 2-3 days where at night I would get that ripe whiff but even then it was super faint.
I have tried Tom's Lemongrass, Anthony's, Alba Tea Tree and some others. All of them were natural deo but they also went on wet and were sticky for a while after applying AND simply didn't do the job. By the end of the day, I was ripe. My poor wife – she put up with the stink because she wanted me to quit using Aluminum anti-perspirant. I had been a life long user of Dry-Idea, well at least since high school or early college I think. So that is about 20 years of putting aluminum on my skin. Thank you for letting my finally move away from that and doing it without any regrets!
THANK YOU!"
Mike K., San Francisco, California