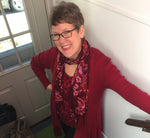 Spend just a few minutes with the Duggan Sisters and you will experience the synergy that makes their partnership so unique and so very special. Like an old married couple, they finish each other's sentences and wordlessly anticipate each other's needs.

"We are actually twins," says Annie, "born nine years apart!"

In fact, their partnership probably works because of their distinct differences. From birth, Annie was rambunctious and physical, always a hand-full and always getting injured. Do not, I repeat, do not get her started on her war stories as she regales each and every stitch and wound and broken bone! These days she channels much of that powerful physicality into her true passion — yoga. Annie does not find as much time to teach yoga as she would like, but one of her proudest achievements was her completion of teacher training with the world-renowned Yogi, Anna Forrest.
"Forest teacher training was one of the hardest and most wonderful experiences of my life! When I got home on the final day Mary had encircled my entire mirror with butterfly decals to celebrate the transformation I had undergone in those 24 intensive days. Those butterflies are still there - a foreshadowing, I guess, of the transformational butterfly that was to become our Duggan sister logo."

Annie first connected with yoga in 1993 when a back injury she sustained while working at UPS during college left her in constant pain and unable to walk without the aid of two canes. Chiropractic adjustments and Osteopathic manipulations were able to take her just so far. When someone recommended yoga, she scoffed at being able to assume poses when she was barely able to walk across a room.

Annie's Yoga studies began with the incomparable Becky Love at the YMCA, and were eventually to include among others, Beverly's much loved Donna Wilkinson, the Yoga Master Lama Lobsang Palden and finally Anna Forest. As long as she adheres to her yoga discipline, her back problems remain a thing of the past.
Annie is one of two Duggan sisters fluent in Dutch. Right out of high school she fell in love with a Dutchman, moved to Holland, lived there for a number of years, mastered the language and developed her skills in the textile arts, eventually becoming the first American awarded a scholarship to study at the famed TeHaTex. But as is so often the case, the relationship ended and Annie returned to the US and enrolled at the University of Illinois — Chicago to study fine arts. That field of study morphed into a degree in Cultural Anthropology and a long career in the Mortgage banking industry — go figure.

Why that career ended and how Annie became "one of those crazy deodorant sisters" and Chief Financial Officer of the Duggan Sisters is truly inspirational. Mary remembers the day in mid-July of 2000 when she and Annie had spent the morning together at a young friend's soccer game. At noon Mary took Annie home as she was complaining suddenly of not feeling well. They both thought she just needed to get out of the heat and rest. Mary had only been in her own home for a little under an hour when Annie called her and said "Mary, I swear to God, I feel like my body is under attack. I hurt all over — I feel like I'm dying. Can you get over here now?"

It had begun. The mysterious IT that was to derail Annie's health, career and life and send Annie and Mary on a journey of discovery, recovery and ultimate triumph that is the essential story of the Duggan Sisters. 

Continue to our Raw Story