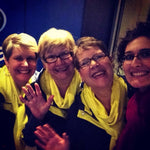 WGN Radio: LifeStinks With The Duggan Sisters
WGN Radio's own Amy Guth doesn't stink! This former stinker switched to‪ lifestinks on election night 2012 and never looked back. Amy talks with the lovely and amazing Duggan sisters – entrepreneurs who have taken the downs in life and turned them into some serious ups. All natural, chemical-free deodorant and insect repellant – find out why they went into the smelliest business around!
Listen in on this fun late night show
.